Meet the Anchorman and the Dream Team!
24/01/2016
« Tillbaka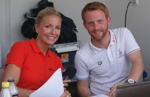 Today we can present the announcer team on Swim Open Stockholm. We are proud to say we have contracted the Dream Team for the event. As Anchorman we have the great and well known announcer Mikael Larsson! Around him we have a real supertrio. Lars Westholm, the very well known and high treasured announcer from Varberg. In the team we also see the proffesional announcer Hanna Westrin, earlier international topswimmer and ten times swedish champion. The forth person is the well known Peter Aronsson, also an earlier international topswimmer. Peter has been a commentator for many World Cup events for television.

Eurosport, who is broadcasting the event, will be commented by Bosse Hultén, very well known for innumeralbe championships in television. His sidekick will be the earlier Swedish National Head Coach Thomas Jansson!