SWIM OPEN Lecture With DIRK LANGE
04/04/2017
« Tillbaka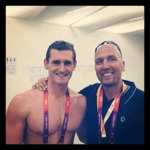 The Swedish Coaches Association proudly invite all coaches to an evening lecture with almost legendary Coach Dirk Lange. We meet on Sunday the 9th of April at Clarion Hotel, 21:00-22:30. Dirk is one of the most wellknown and most succesfull of the european coaches the last two decades. He is former headcoach for both the German National Team and also the South Africa National Team. At picture you see him with Cameron van den Burg after the Olympic Gold Medal 2012 in London. Today Dirk runs the succesfull team in Graz.
You find more information about Dirk here.
The subject for the evening? STARTS & TURNS By Dirk!
We have 50 chair for the lecture, first come - first served as they say...