The IRON LADY Ready For SWIM OPEN!
06/04/2017
« Tillbaka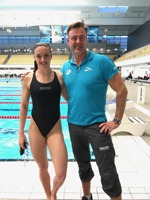 Today the IRON LADY Katinka Hosszu entered Swim Open Stockholm. Full of energy and with a big smile she´s looking forward to the big challenge racing all events during the competition! But with 3 Olympic Gold Medals, 17 WC Gold medals and 21 EC Gold medals she knows her giant potential.
You can follow Katinka and the other stars at Eriksdalsbadet 8-11 of April. Morning session starts 09:30 all days, B/C Finals starts at 16:30 all days except Monday (16:00). The A-finals start 18:00 all days.

If you don´t have a ticket you can follow the A-finals in Eurosport 1, and the morning session and B/C finals in Simidrottstv. Welcome!