Last Day Report - A Great Ending!
12/04/2017
« Tillbaka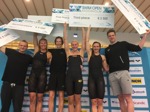 The fourth day of this year Swim Open Stockholm showed a great final session and also many happy smiles. Philip Heinz, the german terminator, started the final day winning the 200 IM, 1:57:81. Then Franziska Hentke won the 200 Fly, 2:06:84 - a great race! At 800 Free Henrik Christiansen stole the show, 7:49:40, oh so strong every time he enters the pool! A new Swedish Record by the magnificant Jennie Johansson, and fastest this year, at 100 breast - 1:06:30. Norwegian winner at 50 Free, Niksja Stojkovski, 22:59. Also in this race a new Swedish Record, but a junior one by Björn Seeliger, 22:62. 800 Free, Sarah Köhler, so tough when she grab a new victory, 8:25:32 and then Johannes Skagius won the 50 Breast with a new Swedish Record, 27:16 - well done there Johannes! The last event - 100 free with Sarah Sjöström at the blocks in an amazing mode. New Swedish Record and also the fastest time this year, 52:54!!!!!!!!!!!!!!!!!!!!!!

The Swim Open Stockholm ended with the best performence prize award, and also great money there. On the mens side Philip Heinz took the third place (€2500), Ginedius Titenis won the silverposition (€5000) and all over winner with €7500 in prizemoney was the norwegian mean machine - Henrik Christiansen! For the women the fantastic Katinka Hosszu, who swam all the 17 events during the competition, won the third place, Michelle Colleman, always so cool and so great, won the second place and after an extreme competition the fantastic Sarah Sjöström won the first place! This edition of Swim Open Stockholm was a great success to many swimmers - we thank you all for being here and hope to see you and the spectators again next year, 4-7 of April. Don´t miss that!