Many Teams Entering Swim Open
01/11/2018
« Tillbaka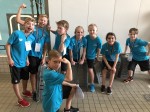 Next years edition of Malmsten Swim Open Stockholm will be almost as powerfull and strong as our great basket carrier team!

And compare to earlier years, next year´s Malmsten Swim Open Stockholm also will be both wider better than ever before. As for today the following teams has made their Prel Entry for accomodation: Eskilstuna, Järfälla, Varbergs Sim, OI Swömming, Sjöbo SS, Södertälje, Petersborough, Rutgers University, ÖSA, Ängelholms SS, Kungälvs SS, Sandnes, Hovudstaden, Bergen, Sigma, Hvidorve, KbSS, Barumssvömmerne, Hamar, Lamberseter, Team Sör/KSA, Belgium/Flanders, Team Germany, Norge, Stavanger, SK Team Sør/Vågsbygd SLK, Team Denmark, Heidelberg, Randaberg, SG Stadt Munchen, Magdeburg, Team Finland, Helsingfors Simsällskap, Neckarsulmer, Landskrona, Täby Sim, Vestkantsvömmerne, KK Karpen, SK Hajen.

And many more are to come -
Welcome to next year´s edition of Malmsten Swim Open Stockholm!