Welcome LTU, LVA & SVK
20/01/2019
« Tillbaka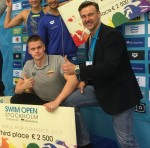 Today the Malmsten Swim Open organisation celebrate an extra happy sunday when we welcome both Lithuania, Latvia and Slovakia back for Malmsten Swim Open Stockholm anno 2019!

In the Latvian team we hope to see the strong breatstroker Daniils Bobrovs , the supersprint free/butterflyer Gabiela Nikitina and the backstroker Girts Feldbergs.

From the Slovakia team we have a big Swim Open favorit in the EC silver medalist at 400 IM in London, Richard Nagy! Hopefully we also will se the 400 IM/200 Fly female Sara Nipepelova.

The fantastic Lithuanian team always comes with the cream de la cream of fast atheletes. From 2018 we remember the fantastic free/backstroker Danas Rapsys, he made a huge footprint at Swim Open 2018 and ended at third place in the all over board! (Danas was also quite fast in WC SC in Hangzhou, won the 400 free, 3.34.01 and grab the ilver att 200 free). Other Swim Open memorable LTU swimmers are the cool breatstrokers Titenis & Sidlaukas!

Yeah - we are really proud to welcome this great teams and swimmers from LTU, LVA and SVK back to Malmsten Swim Open Stockholm 2019!