Welcome Tom Fraser-Holmes!
15/02/2019
« Tillbaka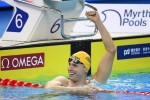 G´day we say to one of fastest IM & middle freestyle swimmers world around. Yes, we of course talk about the fantastic aussie swimmer Tom Fraser-Holmes from down under!

Tom has got three gold medals at the Commonwelth Games in freestyle and also won the 200 free gold medal at 2014´s edition of the Pan Pac (!!!) As an IM swimmer we saw him do the great 400 IM and grab the silver medal at the World Championship in Hangzhou in december. Tom will take part in all the Nordic Swim Tour events 2019.

Welcome Tom Fraser-Holmes!