Have A Nice Weekend!
08/11/2019
« Tillbaka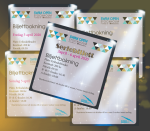 Finally Friday - The Swim Open Stockholm organization team and our fantastic partner Malmsten would like to wish you all an extra nice weekend!

We also take the opportunity to strike a blow for the desirable Swim Open tickets, don´t miss to get your seat on the stand! You find the way to buy the tickets here. First to come...

Welcome to Malmsten Swim Open Stockholm 2020!