Welcome Katinka - The Ironlady!
05/02/2020
« Tillbaka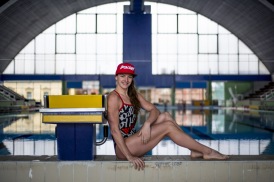 Today we start the inspiring announcement of some of the bigger stars & teams that will compete at Malmsten Swim Open 2020. And let´s start with one of the brightest female stars ever - Welcome Katinka Hosszu!
The Ironlady´s got a quite impressive track record...
Three Olympic Gold medals (and one silver).
Nine Gold medals at World Championships LC (and 1 silver + 5 bronze)
Seventeen Gold medals at World Championship SC (8 silver + two bronze)
Fourteen Gold medals at European Championship LC (5 silver + two bronze)
Twenty Gold medals at European Championship SC (4 silver + 2 bronze)

So all in all 93 (!!!) international championships medals, wow! We guess she goes for over 100 already this year.

Besides, she´s also the current world record holder in five events. And was named FINA swimmers of the year 2014, 2015, 2016 and 2018.

Oh yeah - and this superstar is also a fantastic ambassador for the sport of swimming worldwide. And she has become a big favorite at Swim Open during the years, she really give times for the fans, always smiling and give her best in all situations - Welcome back Katinka!