Super Sarah - The Best In 2019!
15/02/2020
« Tillbaka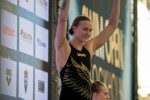 This weekend the Swim Open Organization like to take a moment and honor our own swedish star Sarah Sjöström. Sarah was this week named for the second time as The Best Female Athelete of the year 2019 from FINA, yeah! In Gwangju she, as the first female swimmer ever, won five medals at one single World Championship, so impressive, so Sarah!!!

So we celebrate Sarah with a fantastic photo from mr Pro Jo Kleindl from last years edition of Malmsten Swim Open Stockholm.

Congratulations Sarah!