Pre Entry Are Now Closed
15/01/2021
« Tillbaka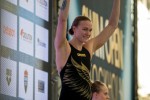 Dear friends,
Todays we have start the compilation of the Pre Entrys we have recived, a total of 970 swimmers from 15 countries. Hopefully we can present an official participation list beginning of next week.

Despite the uncertain time we all share for the moment the interest has been very high for this year´s edition of Swim Open Stockholm. And the star quality is there too, with superstars like Florian Wellbrook, Sara Sjöström, Henrik Christiansen, Pernille Blume, Marco Koch, Sarah Köhler, Ida Kulko, Simona Kubova, Jan Micka, Peter Stevens, Erik Persson, Martin Allikve, Michelle Coleman, Caroline Pilhatsch and many more world atheletes. In the list we find more than 135 participants over 800 FINA Points from SWE, NOR, DEN, FIN, LUX, EST, GER, AUT, SVK, CZE, ARU, LIE, SRB, ISR, SLO.

So the competition will be there, oh yeah! It´s just a small if... at the moment the spread of Covid-19 infections and with that the restrictions needs to lighten up from this current mode of course before we can guarantee the event will be held. But we look at several different options, and we will keep you informed continuously.

The Swim Open Organization wish you all a great weekend - stay strong & healthy!